Results: Future of Transportation Survey
The Council of State Chambers would like to thank the forty-three state chambers that completed COSC's "Future of State Transportation Funding" survey. On August 9, 2016, COSC's Policy Director Bill Kramer presented the survey results, outlined below, to a group of lawmakers at the National Conference of State Legislatures (NCSL) Legislative Summit in Chicago. In addition to sharing the business perspective on transportation infrastructure funding and investment with state legislators, this survey is intended to educate COSC members on the attitudes on this issue from their colleagues across the country.
You may download a copy of the
full presentation
and the
full survey results
.
How would you rate the overall condition of your state's transportation infrastructure?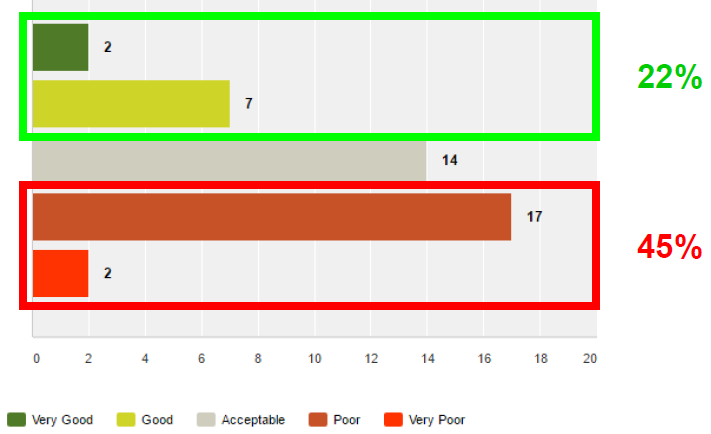 Overall, the state chambers rated the condition of their state's transportation infrastructure poorly, with nearly half of respondents rating it poor or very poor. When asked to rate the condition of specific aspects of their state's infrastructure, roads and bridges rated poorly, while aviation, rail, and waterways rated higher.
How important is increasing transportation investment and/or funding for your state chamber in the next legislative session?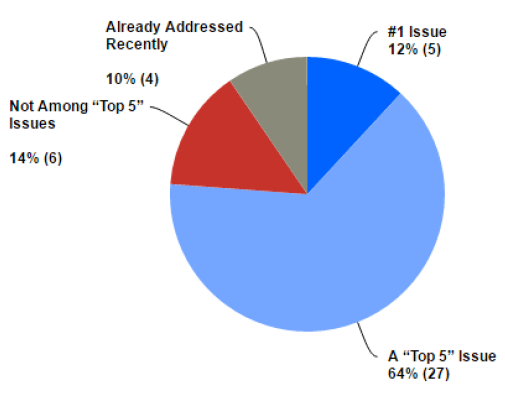 Increasing transportation investment and/or funding is a big issue for state chambers, with 32 of the 43 (76%) respondents saying it's a top 5 or the #1 issue for their state chamber this upcoming legislative session. Among the other respondents, most have already addressed transportation funding recently in their state or other issues are crowding transportation funding out of their top 5.
If increasing transportation investment/funding is important, what is your primary goal?
We asked those that rated transportation funding as a top issue what their state chamber's primary goal would be, and here are some select responses.
"Ensuring the state has a safe, reliable, efficient multi-modal transportation system that helps businesses get their goods and services to market and their employees and customers to their door."
"Seeking acceptable user fee increases after cost efficiencies are fully realized."
"Passing a constitutional amendment that would ensure transportation revenue is spent on transportation investment."
Overall, state chambers want to protect the investments their state has already made, ensure that those funds are being spent efficiently, and find a reliable and sufficient means of raising enough revenue to meet demand.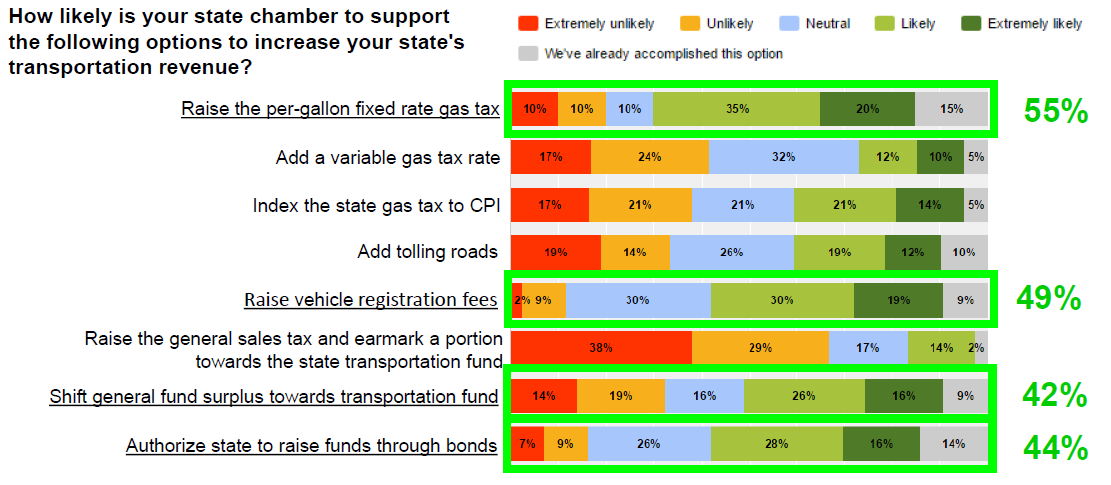 Next we asked about specific revenue raising measures that states are currently seeking. Most favored revenue raisers include raising the per-gallon fixed gas tax, raising vehicle registration fees, taping rainy day funds to supplement transportation funding, and bonding. State chambers were not a huge fan of raising the general sales tax and earmarking a portion towards the state transportation fund. Finally, state chambers were mixed on adding a variable rate to their gas tax, indexing the gas tax to inflation, or tolling.
Mileage Fees
After taking respondents' opinions on the current menu of options to raise transportation funding, we asked about one option many transportation policy experts see as a future replacement to the gas tax.

State chambers had mixed feelings on supporting the study or pilot program to test mileage fees in their state. After asking about some specific concerns, we note that respondents were very concerned about several aspects of a proposed mileage fee. Notably, state chambers were concerned about the practical matters of interoperability of such a program when drivers travel through several states and the possibility of a rural/urban disparity within a mileage fee. While differences among rural and urban drivers often comes into play when debating transportation funding, one of the legislators at the NCSL presentation questioned whether there would be much of a difference between how rural and urban drivers fund the road system when using a gas tax or mileage fee.

What are your biggest long term concerns for transportation funding?
Finally, state chambers were asked about their biggest long term concerns for transportation funding. Below are some select responses.
"Solely relying on the gas tax will not provide the necessary funding to improve and expand the state's transportation and infrastructure needs."
"What will driverless cars and the sharing economy do to the network and how do you capture revenue from those changes?"
"Creating a system that does not penalize drivers who live outside of the city due to economic issues from having to pay more simply based on the number of miles traveled."
Thanks again to everyone that completed the survey. If you have any questions, please contact Bill Kramer at
bill@statechambers.org
.